Custom Area Rugs
Carpet One Floor & Home in Owensboro is your local source for flooring and area rugs! It is important to protect your hardwood or tile investment with something stylish. Many of our broadloom carpet rolls can be cut and bound into area rugs! Area rugs are the perfect addition to your living room. They add comfort, warmth, and decorative interest. Below are just a few key tips when it comes to adding an area rug to your home.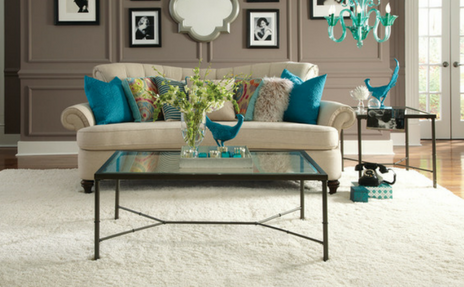 Area Rug Tips
When putting an area rug in your home, size matters! A common mistake is that people buy rugs that are too small for their space. You want an area rug to fit under all key pieces of furniture, or at the very least the front legs. You should think about the arrangement of your furniture before you purchase a rug. A rule of thumb is to leave at least 10"-20" of bare floor between the rug and the wall. Also keep in mind keeping the rug in the center of your room.
If you are looking to add a pop of style to your space, then an area rug can get the job done. An area rug with a bold pattern can be fun, but make sure you do not cover too much with your furniture. You can find color and pattern inspiration from sources like our Beautiful Design Made Simple Magazine or stop by our showroom.
Different rugs have different cleaning instructions, but there are some preventative measures you can take. For rugs with a higher pile, make sure you schedule a deep clean at least once a year to remove dirt, fur, and dust. For short pile rugs, you can take them outside and shake them out. Make sure you keep and save the cleaning instruction tags. If you have the rug for decades you may forget the best way to clean that rug.
Visit our showroom in Owensboro, KY to see our entire collection of area rugs and to speak with one of our flooring experts!
Area Rug Brands

Explore our wide selection of area rug brands at our showroom! We offer Capel, Nourison, and many more from which you can choose!